Apr. 03, 2023
Ethyl acetate is a commonly used solvent in extraction processes because it has a number of desirable properties.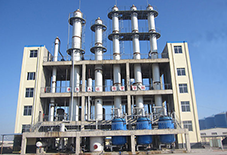 One of the main reasons that ethyl acetate is a good solvent is that it has a relatively low boiling point. This means that it can be easily removed from a mixture by evaporation, allowing for easy purification of the extracted compounds. Ethyl acetate also has a relatively low toxicity and is classified as a mild irritant, which makes it a safer choice than many other solvents that are commonly used in extractions.
In addition to its low boiling point and low toxicity, ethyl acetate is also a relatively polar solvent, which means that it can dissolve a wide variety of polar compounds. This makes it a versatile choice for extracting a wide range of compounds from various matrices.
Another property that makes ethyl acetate a good solvent for extraction is that it is highly selective. This means that it can effectively extract a specific compound or group of compounds from a mixture, while leaving other compounds behind. This is because ethyl acetate has the ability to form hydrogen bonds with certain functional groups such as carboxyl and hydroxyl group. Additionally, the polar nature of ethyl acetate also enables it to interact with polar compounds. This can be useful in cases where a mixture contains several different compounds and it is necessary to selectively extract one or more of them.
Furthermore, Ethyl acetate can dissolve both lipophilic and hydrophilic compounds, making it useful for extracting compounds from both organic and aqueous matrices. This makes it a useful solvent for extracting compounds from a wide variety of sources, such as plant material, animal tissue, and microorganisms.
Ethyl acetate is also relatively inexpensive compared to other solvents, making it an economical choice for many extraction processes. Additionally, it can be easily purified and recycled, which can further reduce costs.
In conclusion, ethyl acetate is a good solvent for extraction because it has a low boiling point, low toxicity, high polarity, selectivity, ability to dissolve both lipophilic and hydrophilic compounds, relatively inexpensive and can be recycled . These properties make it a versatile and efficient choice for extracting compounds from a wide range of matrices, from plant and animal materials to microorganisms. For more information, please contact us. We will provide professional answers.