Considering the factory location, we are faced with a planned factory and a realistic environment, the problem to be solved is to build the factory where. Chemical plant positioning, generally follow the basic principles:
(1) Good circulation of raw materials, fuel supply and product sales;
(2) Good cooperation environment in storage, public works and living facilities;
(3) close to adequate water, good water quality,
(4) There are convenient traffic conditions,
(5) There are good engineering geology and hydro-meteorological conditions.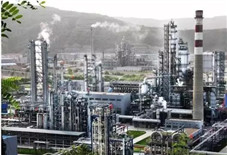 Factories should avoid locating in the following areas:
(1) Seismogenic fault area and earthquake intensity of 9 degrees or above;
(2) Grade III self-weight collapsible loess area with larger thickness;
(3) mountainous areas vulnerable to flood, debris flow, landslide and other hazards;
(4) Mining areas with mining value;
(5) Areas that have an impact on the use of airports and radio stations;
(6) Historical relics, biological protection and scenic areas as prescribed by the state;
(7) towns and other densely populated areas.
In addition to the factory positioning in compliance with the above taboo, consider more economic problems. Of course, unsafe factors such as high wind speed, earthquakes, rain and snow, and frequent lightning can give due consideration to the location of factories, but these are often submerged in economic considerations. For example, most large-scale petrochemical enterprises in the world are built around the raw material origin for economic considerations of raw material circulation.
SL TECH, providing high technology for you. Recommend product: Mono-ethylene Glycol Plant. We are Mono-ethylene Glycol Plant supplier.